HARTLAND PHOTO GALLERY DIRECTORY

Hartland Plastics produced many different kinds of products throughout the years. They are probably best known for their line of Western figures and their line of model horses. But they also produced an extensive line of religious figures. This page gives you a choice of galleries to explore some of the figures Hartland produced over the years. Enjoy your visit!
The galleries are broken down into many different categories. In some instances, there are variations of the same figure (especially in the religious figure categories). I've first shown a pic showing the variations, then broken the pics into individual pics. With the religious figures, the variations usually revolve around the type of base the figure is on or different paint schemes on the figure itself.
There are 2 common base types used for the religious figures. The first base type appears to be an octoganal shape. These can be either black or brown (and I have one figure with a white octagonal base). Black seems to be more common than the brown ones though. The next base type that came along is what I refer to as the "filigree" base. It was generally round with some fancy cut-outs. The swirls were usually painted gold. The filigree base is almost always black, but there are some white ones as well. Some figures didn't come on any kind of base though.
Painting Techniques. The earliest religious figures seem to be painted a bit differently than the later figures. The early ones are usually painted with more pastel colors. For instance, Mary's robes are a soft turquoise and Jesus and Infant of Prague figures are usually a light salmon color. Their skin is usually just the white unpainted plastic, and the lips are painted red. I refer to these figures as "porcelain-look". These earliest figures are almost always on the brown octagonal base, but sometimes have a black base.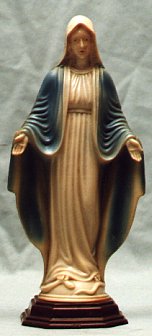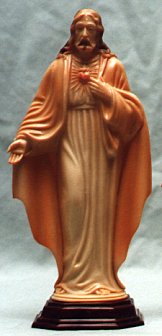 At some point the paint used for the figures changed to more vibrant colors. Mary usually has a deeper blue robe on, and Jesus' robes are generally a bright red. Skin was now painted an actually flesh-tone. These are found on the black octagonal bases and the "filigree" bases.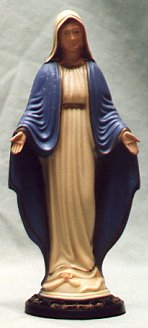 Hartland used other interesting finishes on the religious figures too. Sometimes white robes are painted with a "pearlized" paint. Some of these figures are very striking. Hartland did produce some of the horse models in this pearl finish as well. They also made many of the figures in a "luminous" (glow-in-the-dark) plastic. Too bad they never produced any horse molds in that same plastic. :)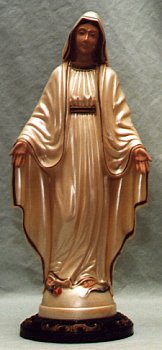 Example of Pearl Finish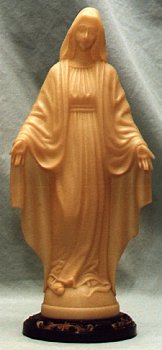 Example of Luminous Plastic
There are various mold markings on the religious figures as well. The earliest mold marking seems to be the "Diamond I" mark (a capital I inside a diamond). The next marking is "HARTLAND MOLDED HARTLAND, WISC." Then at some point, they changed to "HARTLAND PLASTICS, INC". These markings sometimes appear by themselves, but they also appear in pairs during transition periods. However, it seems you will never find all 3 on the same figure. Of course, there are the occasional figures that have no markings at all. :)
Another interesting fact about the religious figures is that they served various functions. Some were just plain religious statues, but others had a purpose. There are some figures that were made into music boxes. Some were attached to fancy "boxes" to store a rosary. Some of the figures are night-lights. There always seems to be something new popping up. :)
Infant of Prague/Christ Child Gallery
Miscellaneous Religious Figures Gallery

Other Miscellaneous Figures Gallery


Guestbook coming soon.


Links to other informative Hartland and Breyer sites on the Web

Mike Jackson's Hartland Pages, this site is especially geared toward the Hartland Horse and Rider sets, but also has lots of interesting information, pics and a bulletin board.


Hartland Figurines and Sports Memorabilia, this site is dedicated to Hartland Sports Figures, lots of galleries and information.


Hartland Model Equestrian, this is Gail Fitch's official site--here you can order both of the only published books on Hartland models.


Hartland Collectibles, the official site of the NEW Hartland models.


Breyer's official website.


H&H Winner's Circle, this is an excellent dealer in model horses of every brand.


Official website of Peter Stone Models.



Click HERE to return to my homepage.
© 2001

brian AT chakmol DOT com